LS series Laminating Machine

This machine is the model of LS-200-N
LS-180-N Operation Procedures ( Video )


LS series Laminating Machines are suitable for the lamination of apparel fabrics, industrial fabrics.
Feed device and edge position control mechanism use simple and fast design and have the features of power-saving, space-saving and nimble operation.
Feed device has five models for selection based on requirements (See the second item of specification column).



Trolley of feeding and picking, operation is mobile and flexible

Trolley of feeding and picking don't install power, could save energy.

The cloth fabric's roll of feeding trolley is driven by laminating equipment roller. The cloth fabric's roll of picking trolley is driven by roller's contact-friction of rewinding swing-arm.

Trolley could be moved flexibly, it has high-flexibility to prepare feeding and picking.



Type 1
Tension controller with tension detectorcould be set up different tension value according to different tensile of various of fabrics, and fast responding to the fabric tension variation after laminating, ensuring the laminated fabric be flat in the process of rewinding.

Type 2
Dancing-Roller of tension control mechanism are used in fabric unwinding and rewinding process, by adjusting tension control air pressure to control unwinding or rewinding roller speed, fabric feeding tension, then adapt to different tensile of various of fabrics.




Edge Position Control System

Electronic type P.I.D Edge Detection Sensor, which detects edge position of cloth fabric and pass the detected signal to Edge position control mechanism (Left Fig.)
Oil-cylinder and twin-wheels type edge position control mechanism, which controls cloth fabric's alignment in cloth-roll transportation ( Right Fig.).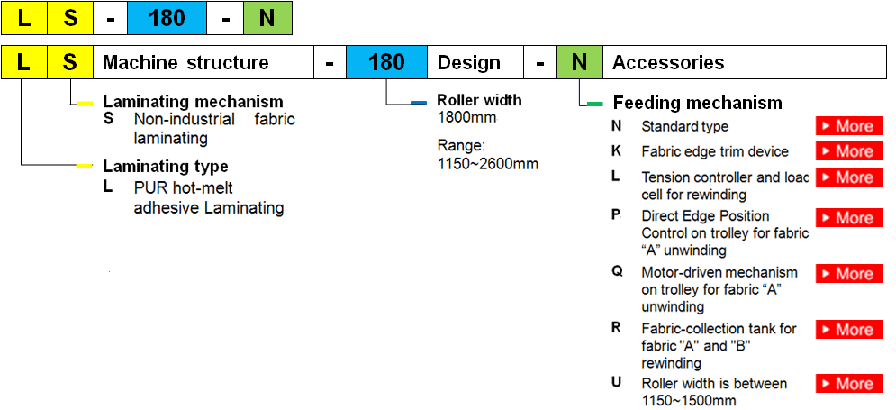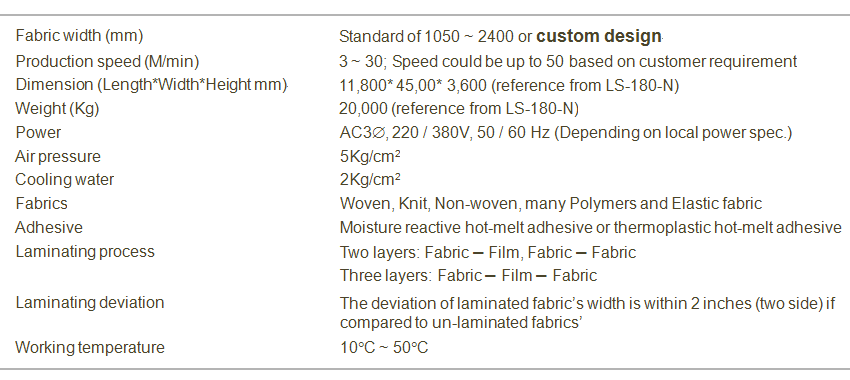 | | | |
| --- | --- | --- |
| Mechanic data | | Electric data |


Gravure roller's Specifications

| | | |
| --- | --- | --- |
| | | Gravure roll's surface of laminating machine can be processed by laser to made a variety of patterns, which could ensure that the layer of adhesive remains open or discontinuous, avoiding adhesive overflow in laminating process, the principle of gravure roller is similar to the printing technology, a good pattern design of gravure roller can make fabric coating and laminating be well. Hong-Cheng Technology provides series of gravure roller's pattern design, which can help customers to decide his first or new gravure roller of laminating machine, which was just bought from us. |



Machine's color selection
The machine's color could be assigned by customer, or assigned by the following popular color cards.





PUR Hot-Melt Laminating Machine Manufacturing Factory
Cloth Fabric Laminating Machine Manufacturing Factory
Industrial Cloths Laminating Machine Manufacturing Factory
Cloth Fabric Coating Machine Manufacturing Factory
Industrial Cloths Coating Machine Manufacturing Factory
Imitation Leather Coating Machine Manufacturing Factory